Spin Hamiltonian expanded in Magnetic Field and Electron Spin
The Hamiltonian for a single spin S and its interaction with the magnetic field is in general a sum of terms with

, with pB and pS non-negative integers. pB +pS has to be even to fulfill time-reversal invariance. Only terms with pS ≤ 2S are effective. Mc Gavine et al. formulated such general spin Hamiltonian using tesseral harmonics. Advantages are the following:
behavior of all terms under axis rotation is straightforward to establish
the same symmetry selection rules as for the crystal field applies and can be readily adopted.
This general spin Hamiltonian can be written as: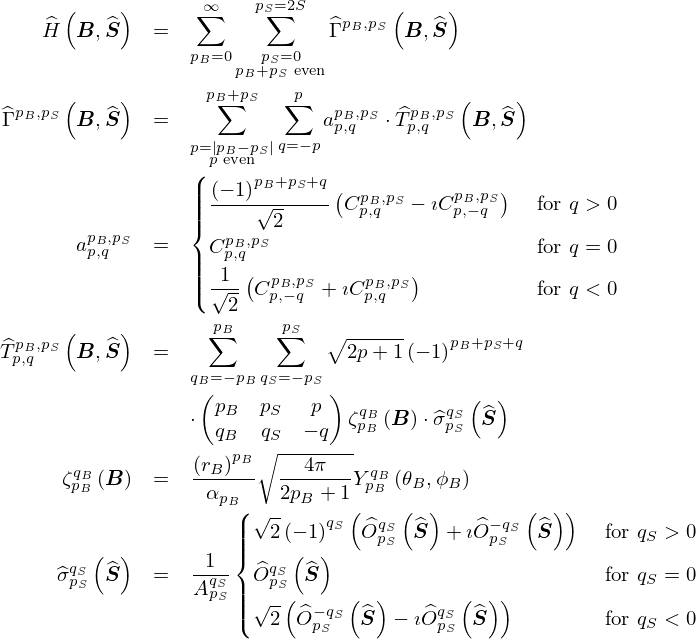 We used the extended Stevens operators

. The magnetic field is expressed in spherical coordinates

and

denote the spherical harmonics. Prefactors Apq and αpB are tabulated in McGavin et al.

is a Wigner 3-j symbol.Wigner 3j symbols are zero unless qB + qS = q and

. The parameters describing the spin system are the

. They are given in units of Energy (Magnetic Field)pB, which correspond in Easyspin to MHz (mT)pB. The allowed coefficients have p an even integer numbers between |pB-pS| and pB+pS and q integer number between -p and +p. For example for pB = 1 and pS = 3 the following coefficients are allowed:

Next we will derive the coefficients

for Hamiltonian's widely used in spin physics.

with symmetric g matrix and the Bohr magneton μB. We can construct now the

as: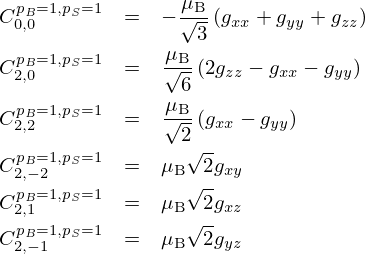 However, the most common form which is quadratic in S and consider the diagonal terms in a trace-free representation is:

The corresponding coefficients should now be transformed to the

(only p = pS is allowed for pB = 0). With ζ00 = 1 and

for even pS it is straightforward to transform the coefficients:

D and E in HDE are converted to

J. Magn. Reson., 1990, 87, 92-109.